Elegant, classy and sophisticated, black linen represents an attractive and exciting option for table décor, bedding, drapes, towels, outdoor furniture, upholstery fabric and other interior design and clothing projects.
From formal events that feature a sleek black and white theme to designs that require a subtle, elegant base, black linen is the perfect starting point for your project.
With a classic yet bold take on decor, black linen can transform a space in an endless number of ways. Here are just a few to kick your design project into action.
Layering With Bold Accents
One of the biggest design trends to take the design world by storm is layering to add visual appeal and depth to a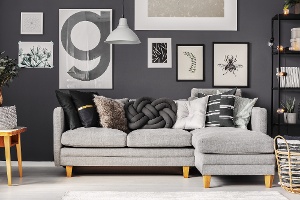 space.
Black linen provides the perfect neutral backdrop to experiment with bold colors or soothing shades to create an elegant, layered look. When paired with striking black upholstery on a sofa or chair, elements like accent pillows, lampshades and other home decor items can provide a pop of color without overwhelming a space. Black pillows on light upholstery also add elegance or can make a patterned pillow in front of it stand out.
Draped in black linen fabric, formal dining tables will take elegance to a new level, especially when paired with crystal, silver, gold or chairs upholstered in bright, bold colors.
Then there's the allure of black and white, which never goes out of style. Layering with wood tones adds visual warmth to this monochrome room.
Creating Textures
Embellished designs on black linen create striking looks, transforming a room instantly. Particularly black and white striped upholstery fabric and animal print patterns highlight a trend toward embracing layers and unique designs.
A popular way to achieve this is through rotary or flat bed printing. Rotary printing is a direct-to-fabric printing technique where the image is engraved on precision-cut stencils (or screens). Multiple screens can be used to create a multi-color design and can produce intricate patterns.
Screen printing also allows inks to penetrate the fabric, which holds the deep black color better and longer.
Damask linen, which has been compared to embroidery, can also add another dimension to the fabric. Damask is a popular linen weave pattern used on decorative additions to a room. Designs can often be subtle, appearing to the eye as the light changes or a vantage point changes in the room.
Sign up for our newsletter
"*" indicates required fields