Paisley Fabric – The Rich History of a Timeless Pattern
by Greenhouse Fabrics on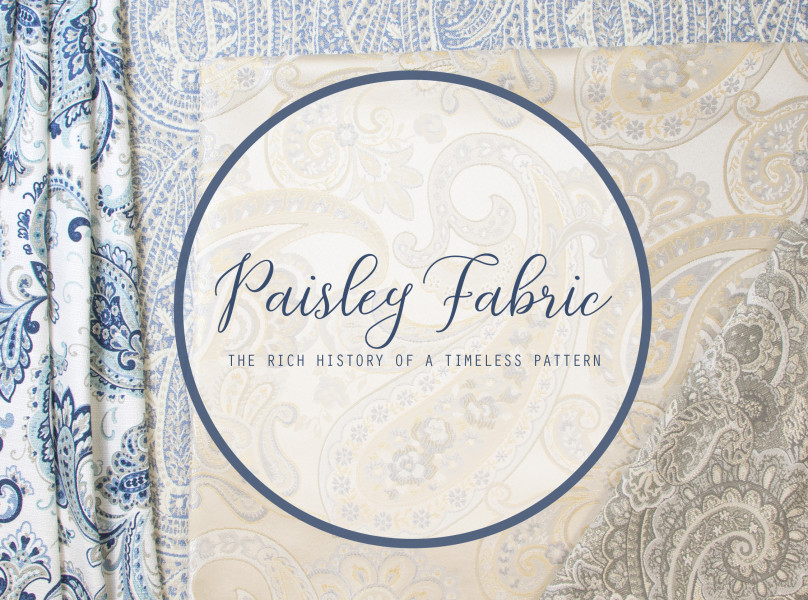 Written by Tiffany Tolliver
What we know as a Paisley pattern is actually an ancient Persian design called Buta.  The first recorded appearance of this pattern was around 400 AD during the reign of the Sassanid Dynasty.  It originated from the merging of a floral spray and a bent cypress tree which is a symbol of life, eternity, strength and modesty.  It took root spreading across Persia and became a foundational design for textiles for the Qajar and Pahlavi dynasties of Iran.  Intricately carved and woven, it adorned crowns and royal clothing for centuries.  This meaningful pattern was hand printed on fabrics or embroidered hand using rich shimmery yarns.
In the 11th century, Kashmir shawls with Buta designs became popular among the elite of Europe because of their rare beauty.  Soon, cities in Europe began producing their own Buta fabrics and by the 18th century they were being produced in Asia and Europe by the millions.
One of these cities rose to the occasion becoming the largest producer for Paisley shawls in the world with 7,000 weavers by 1850.  This city was Paisley, Scotland.
In Iran today, it is woven on silk with gold and silver threads for weddings and other special occasions.  It is also common to find the twisted tear drop shape embellishing paintings, jewelry, carpets, landscaping, and pottery.
Paisley is a favored pattern with Interior Designers and Upholsterers.  Discover the variety in style and color at greenhousefabrics.com
Listed above are just a few great items that the 
Anna Elisabeth
 and 
Greenhouse Fabrics
 lines have to offer. Stay tuned for more up-and-coming collection launches, and 
subscribe 
to our blog for the latest fabric trends and textile knowledge!
Save
Sign up for our newsletter
"*" indicates required fields